About
At Keenair we provide a total solution for owners of aircraft, leaving you to focus on making the most of your flying time.
Our engineering staff, some of which have been with the company for over 20 years, have a wealth of experience working on a whole range of aircraft (see "Aircraft Types" below). With their knowledge, professionalism and friendliness we pride ourselves on customer safety and satisfaction.
For those aircraft away from our Liverpool base that require maintenance, we can provide a pick up and delivery service by our experienced pilots. The landing fee at Liverpool is free of charge.
Competitive fuel can also be made available to our customers.
History
The Keen family history at Liverpool Airport is well documented in aviation, commencing in 1963 when the Liverpool Aero Club was established by the late Jim Keen. Since then the Flying School has been training pilots, for business and leisure. The requirement to maintain this fleet, as well as customers' aircraft, was taken up by Keenair.
50 Years of Keenair & Liverpool Flying School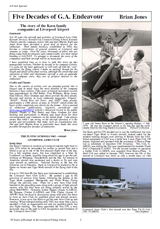 "For 50 years the aircraft and activities of Liverpool Aero Club, Keenair Services, Keenair Ltd, Liverpool Flying School, Keenair Charter and the company owners Jim and later Martin, Kath and Janet Keen have provided a great deal of interest for the enthusiast. Their family business, established in 1963, has become a cornerstone of general aviation at Liverpool and remains so today."
Click here to download and view the full article (14mb)
Expertise
Our team has a wealth of experience in aircraft maintenance, backed up by approvals from the following organisations:
EASA (European Aviation Safety Agency)
Part M - Sub Part F (approved to maintain your aircraft for all routine inspections and defect rectification)
Part M - Sub Part G with I (approved to carry out and sign off ARC renewals and extensions)
CAA approved BCAR (British Civil Air Requirements) for National Aircraft
Approved to maintain your aircraft and carry out the Star Inspection for recommendation to renew the Certificate of Airworthiness.
Over the years, Keenair have maintained a vast array of aircraft...
Auster
5J1
Avions Pierre Robin
DR360
DR400
Beagle
A61 Terrier
Boeing
A75N1
A75N1 (modified) Stearman
Britten Norman
BN2A-20 Islander
BN2A MK III-I Trislander
Cessna
150, 152, 172, 177, 182, 206, 210, 303, 310, 337, 401
Champion
7GCAA Citabria
CZAW
Sportscruiser
de Havilland
DHC-1 Chipmunk 22
DH89A Dragon Rapide 6
DH82A Tiger Moth
Douglas
C-47A Dakota "Maggie May" & "Drag em oot"
Embraer
EMB-110 P1 Bandeirante
Fairchild
24R-46A Argus III
Focke Wolfe
Piaggio P149
Fuji
FA200
Grumman
AA-1
AA-5
Junkers
Ju52
Maule
M5-235
Miles
M65 Gemini 1A
Mooney
M20F
Moraine Saulnier
MS880B Rallye Club
Nord
3202
North American
A-T6G Texan
B-2SJ Mitchell "Big Bad Bonnie"
Piper
Apache
Archer
Arrow
Aztec
Cherokee 140, 160, 180, SIX
Colt
Cub
Lance
Navajo
Saratoga
Seneca
Super Cub
Tomahawk
Tri-pacer
Vagabond
Warrior
Rockwell
Commander 114
Socata
TB-9
TB-10
TB-20
Soko
P2 Kraguj
Stampe
SV4C
Stolp
Starduster TOO
Stinson
L-5 Sentinel
Vulcanair
Partenavia
Observer
Wako
UPF-7